Happy Monday!
Today I will start with something which I haven't done very often - talking about other bloggers, especially new bloggers. I have very nice and friendly contacts with many bloggers out there and it has given many positive experiences and feelings. So therefore, I am sharing couple of new bloggers with you today.
First of them is
The Tale Spin
! The Tale Spin is owned by Patricia, who sometimes visits my blog.
It's a very new blog, she has been blogging for one week now. I like it! Her reviews are good too, definitely worth reading! Very efficient blogger, 9 reviews with one week! Go and visit her! She has 11 followers (inclusive me) and the last post was about surviving the first week of blogging.
Second is
Kimberly's Bloomin' Reviews
! Kimberly is also a new blogger.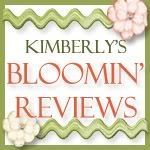 I found her blog through Book Bloggers where she announced about a giveaway of 50$ amazon.com gift card. Curious as I am I went to visit her blog and I saw that it was open only for US. I wrote a comment that amazon gift certificates can be used by all international amazon users and now the giveaway is international! Check it out! You might be the lucky winner of 50$! Kimberly's blog has 28 followers and 4 posts. Link to the giveaway is here:
http://bloominreviews.blogspot.com/2012/02/blossoming-blogger-giveaway.html
Happy reading!