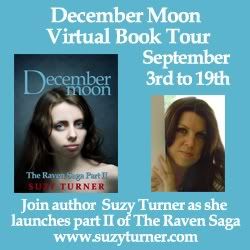 It's here! I am so proud to be the first stop of December Moon Virtual Book Tour! Welcome!
There will be a short welcome by the author Suzy Turner where she tells about her favorite character in the December Moon, there is book blurb and book excerpt!
I have read Raven, the first book of the Raven Saga and I loved it! You can find my review of the first book in the series
here
. Besides that I had an interview with Suzy couple of months ago and the interview can be found
here
.
Ladies and gentlemen, please give a warm welcome to my friend, author of December Moon, Suzy Turner!
December Moon Virtual Book Tour
September 3rd to 19th
Ghosts, spirits... whatever you want to call them, they've always intrigued me. Perhaps it stems from the death of my mother at a young age, perhaps it's just because the supernatural has always been a subject I've wanted to know more about. Whatever it is, I love reading about them. And now... I love writing about them!
When I created December Moon, I wasn't expecting this character to appear but she just showed up out of nowhere... literally, she just materialised in the room and I was completely blown away by her. I can honestly say, she is now one of my favourite characters in the book.
Ruby Madison is a beautiful red-haired witch who died in her forties. Murdered by a vampire, she was also cursed so that she would be forever stuck on earth, unable to join her ancestors in the afterlife. Surprisingly, in light of her predicament, Ruby continues to maintain a great sense of humour and is a great support to her daughter, Moira and her granddaughter, December.
Here is a brief excerpt:
"Born to a great witch, my grandmother Constance, in 1949, Ruby was adored from day one. Her mother taught her everything she knew about the art from a very early age and then when she was older she was also encouraged to fit in with normal society. She went to college, studied to become a doctor and later got a job at a Massachusetts hospital, but she never stopped practising the art. Whenever she wasn't healing people, she was saving others from evil. In 1970, she met and married another doctor called Henry, a union that resulted in the birth of their beloved daughter - me! - five years later. My father sadly developed cancer and died in 1981, leaving Ruby a single working mother. Not that it was a problem, of course. She was fiercely independent and very, very smart. The problem arose when she was offered a better position the other side of America, in Seattle. She took it, more money and less hours was a no brainer at the time. But Seattle had something dark and foreboding lurking in its midst. Unbeknown to Ruby..."
"Oh get to the point, will you," said a woman's impatient voice from the shadows.
December jumped so far that she fell off the bed.
"Oh my dear, I'm so sorry, I certainly didn't mean to startle you, but your mother... honestly, she should have been an author the way she rattles off these long and rather boring stories. The whole point of the story was to tell young December here about who killed me. Are you going to get to the point or shall I?"
Moira stooped down and helped pull December up off the floor.
"Mother... must you scare your grand daughter like that?"
"Well, I did apologise. I am sorry, my dear," said the voice out of nowhere.
"Mother... show yourself. December can hear you now, she may as well see you too."
The blurry image of a woman began to appear from behind the tall white table, slowly becoming a slender and glamorous looking figure with fiery red hair. A family trait.
Although the image remained somewhat translucent, December could easily make out the hazel green eyes and cheeky smile that was etched on her thin pale face.
"Here I am. Is that better, dear? Let me introduce myself. My name is Ruby and I'm your grandmother. I'd shake your hand and give you a hug but it's not really possible," and she demonstrated as her slender hand trailed through the air, straight through December's own.
Speechless yet again, she felt a cold chill and shivered.
December Moon Book Trailer:
Happy blog hopping!