Yay!!! Here it is - antoher big blog hop with giveaways. I'm participating too and looking very much forward for visitors!
The Spring Blog Carnival is organized by Candace's Book Blog
http://www.candacesbookblog.com/
, Reading Angel
http://www.readingangel.com/
, Pure Imagination
http://www.pureimaginationblog.com/
, and The Book Swarm
http://www.bookswarm.blogspot.com/
.
Thank you for doing that!
Let the Spring Blog Carnival begin!!!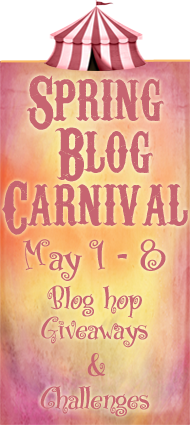 Here are the booths for challenges! No Carnival without some extra fun! Schedule for booths is here:
May 1st-
Reading Angel: Haunted House
Reading Teen: Fortune Tellers Booth
May 2nd-
Candace's Book Blog: Food Court
The Mod Podge Bookshelf: House of Mirrors
May 3rd-
The Book Swarm: Roller Coaster
Actin' Up With Books: Karaoke Booth
May 4th-
Pure Imagination: Kissing Booth
Lovely Lit: Once Upon a Time Booth
May 5th-
Awesomesauce Books: Gaming Booth
Books R Us: Medieval Booth
May 6th-
Extreme Reader Book Reviews: Guessing Booth
Colloquium: Cotton Candy Booth
May 7th-
The Minding Spot: Teacups Booth
Miss Remmers Review: It's a Bad World Booth
Giveaway will be open from May 1 until May 7.
There will be
two
lucky
winners
- both of them can pick 1 book from 
The Book Depository
under the Fiction category. The winners pick 1 book each and I will make sure they get these.
To participate, you have to fill in the Form:
As always, I am on the backend of the linky - nr. 186.
Have fun!